Ant Esports MODPRO Sleeve Cable Kit 30 CM Extension Cable (White – Black)

Ant Esports MODPRO Sleeved cables are constructed with exceptional quality ultra-thin fibers and premium PET materials providing the cable higher flexibility over any other nylon mesh sleeved cables. The cables are flexible enough to route behind your motherboard trays and other tight spots for easier and much cleaner easier and professional wire management. Weaved and constructed using three-layered design: Outer ultra-density weaving the middle insulating layer with acid and alkali-resistance fuel resistance damp proof and mildew proof features and inner certified 16 AWG wire these are heat-shrink free to ensure high-quality cable assembly and support for high currents in order to achieve superior performance.
Four color options – The wires come in four attractive colorways – red/black black/white yellow/black and green/black ensuring maximum compatibility with any build theme and components.
16AWG construction Thicker wires offer lower resistance and higher current transfer over the conventional 18AWG standards making these suitable for higher wattage equipment.
Heat-shrink less Design Made with premium materials the MODPRO Sleeve Cable features heat-shrink-less sleeving methods and gives aesthetic appeal and excellent durability.
Three Layer Design MODPRO cables are constructed with a three-layer design offering higher durability over time and are resistant to corrosive elements such as coolant spillage etc.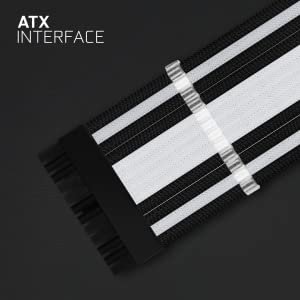 Universal Compatibility These cables are compatible with any ATX power supply and can be used with lower to high-end builds alike.