The SuperNOVA P+ PSU
Enter the SuperNOVA P+, the new and improved fully-modular power supply line-up from EVGA with an 80+ Platinum Efficiency rating. These power supplies pick up where the award-winning EVGA 1600 P2 and 1200 P2 power supplies left off and continue the tradition of EVGA quality and performance.
Additionally, the SuperNOVA P+ power supplies feature a cleaner internal layout to increase airflow, a Variable Resistor module (to increase voltage stability), two DC to DC modules for more efficient power switching on all models, EVGA ECO Mode, a full suite of power supply protections, and EVGA's World-Leading Global 10-Year Warranty on all P+ power supplies.
When it comes to building a system, even the smallest differences can make or break your build. The 1600 P+ is 20mm shorter than its P2 counterpart, giving you more space without sacrificing quality.
QUIET AND LONG-LASTING FANS

1600 P+ – 135mm Double
Ball Bearing Fan
——
1300 P+ – 135mm Fluid
Dynamic Bearing Fan
Double Ball Bearings are the industry standard for any power supply expected to carry heavy loads on a regular basis due to their durability and low noise level. Fluid Dynamic Bearings reduce the wear and tear on a fan's bearing, which reduces noise and increases its lifespan.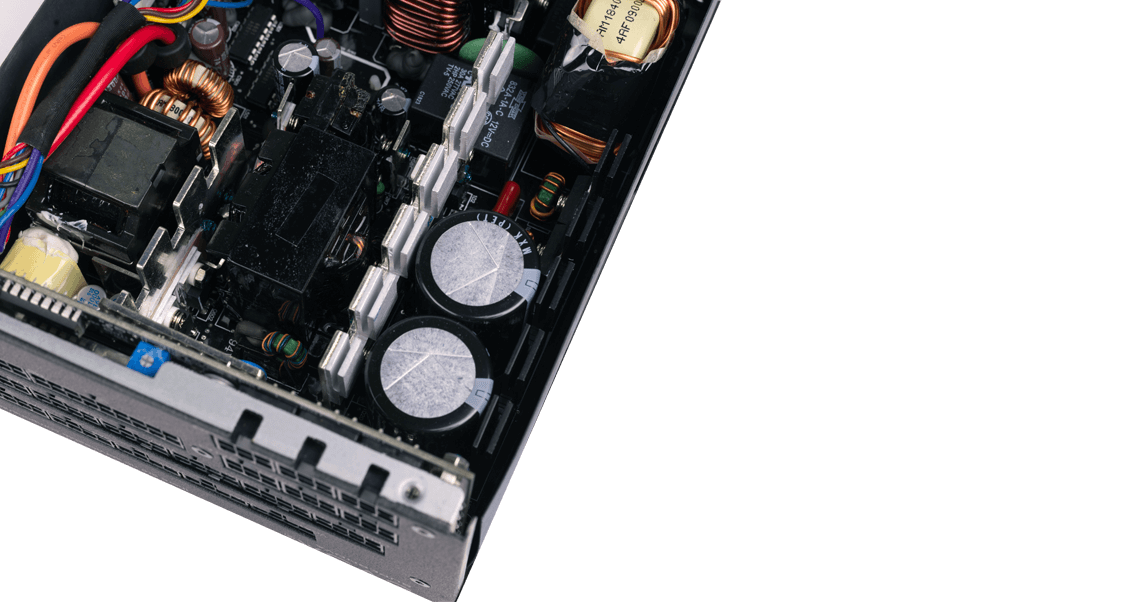 The SuperNOVA P+ is loaded in many areas, including a single 12V. rail, 100% Japanese capacitors, VR module, and DC to DC converter on all SuperNOVA P+ power supplies. Compliant with IEC 62368, this results in over 92% efficiency, tight 12V. load regulation, and stable power to all connected devices.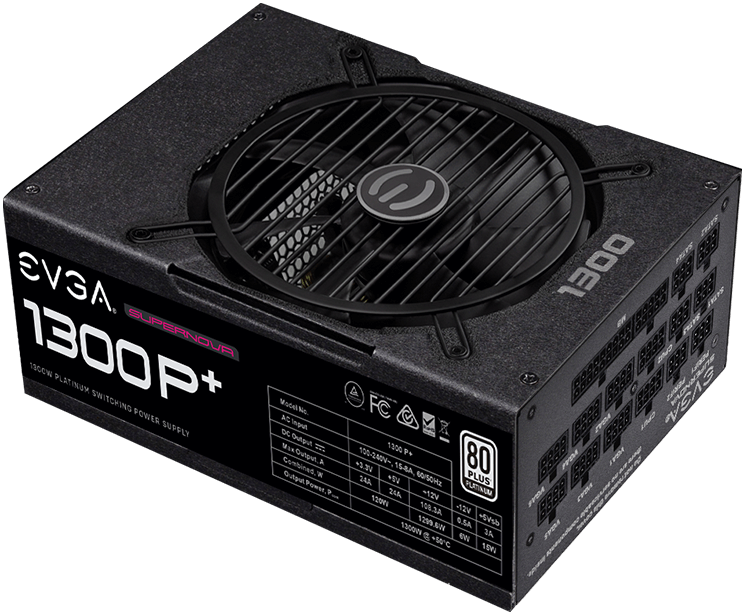 UP TO 45% QUIETER UNDER LOAD
1300 P+ 19.6dB vs. 1200 P2 35.8dB
By combining quiet and long-lasting fan bearings with an optimized fan curve and a cleaner internal layout, the P+ power supply line-up reduces noise by up to 45%, compared to the P2 power supplies.
World-leading warranty and support for
10 years
CABLE LENGTH
| | |
| --- | --- |
| ATX Cable | 1x 600mm |
| EPS Cable | 2x 750mm |
| PCIe Cable | 4x 750mm, 2x 750mm, 900mm |
| SATA Cable | 4x 550mm, 650mm, 750mm |
| Four-Pin Peripheral Cable | 2x 550mm, 650mm, 750mm |
| Floppy Adapter | 1x 100mm |
| AC Power | 1x 1800mm |
| Modular Cable Type | Full |
CONNECTOR QUANTITY
| | |
| --- | --- |
| 24 Pin ATX | 1x |
| EPS (CPU) | 2x 8pin (4+4) |
| PCIe | 8x 8pin (6+2) |
| SATA | 12x |
| Four-Pin Peripheral | 6x |
| Floppy | 1x |
INPUT
| | |
| --- | --- |
| Input Voltage | 100-240V~ |
| AC Input | 15-8A |
| Input Frequency Range | 60/50 Hz |
| Efficiency | 92% or Higher Typical |
OUTPUT
Rail
+3.3V
+5V
+12V
-12V
+5Vsb
Max output
24A
24A
108.3A
0.5A
3.0A
120W
1299.6W
6W
15W
Total
1300W
ADDITIONAL DETAILS
Operating Temperature
0° to 50° C
Japanese Capacitors
100%
ECO Mode
Yes
MTBF
100,000 Hours
Gross Weight
8.80 lbs
Size
86mm (H) x 150mm (W) x 200mm (L)
Approvals
TUV, CB, CE, FCC, RCM, cTUVus, BSMI, CCC, WEEE, RoHS
Compliance with ErP Lot 3 2014 Requirement
Fan Size / Bearing
135mm Fluid Dynamic Bearing
UPC
843368067656
EAN
4250812438645